Disclosure: I got this product as part of an advertorial.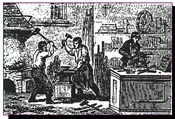 I loved being challenged when I grew up. I used to read large books, studied the dictionary, did lots of puzzles, and had random spelling bees during the day when someone in my house couldn't figure out how to spell something. I was kind of nerd.
One of my favorite things growing up was actually these metal puzzles we had on the hearth of the fireplace. They were complex puzzles with rings and hooks and I remember them being around for as long as I can remember. These puzzles were used as a reward system if we solved them when we were younger, and a fun trick to play on guests who had never seen them before and they will always be a positive memory in my childhood growing up.
(l-r) Double Trouble, The Iron Maiden, The Old Shackles
SmartyPants
I was so excited to have the opportunity to review the Smartypants Tavern Puzzle when I saw it and it immediately brought back happy memories. Nostalgia is a powerful thing. Little did I know that the this is the exact company that my mother purchased the original puzzles from over 30 years ago that I grew up enchanted by!

Tavern Puzzles® evolved from reproductions of hand-forged artifacts that Dennis Sucilsky came across while researching architectural hardware. As a blacksmith, Dennis was able to use his knowledge of iron-working and tool making for production of metal puzzles.
Tucker-Jones House, Inc. was established in 1975. It is a family business, owned and operated by Dennis and Donna Sucilsky.
Dennis Sucilsky is a museum trained, traditional blacksmith. His specialty is 18th and 19th century architectural hardware. In 1980, Dennis began production of metal puzzles. Incorporating both traditional and original designs, the Tavern Puzzle®Collection emerged.
Tucker-Jones House, Inc. is the only company that makes the Tavern Puzzle® Collection. Our trademark assures you quality, value, and service.
My older brother was just as ecstatic to see the puzzle as I was when it came to my door in a wonderful stamped pouch with information about how you can get the solution online on their website. I opted to get the solution because after a month of moving the ring around I realized that what I was doing couldn't be right because it was too easy and I was correct in that I was doing it wrong.
I have had the pleasure of testing out 4 versions of puzzles from this company, The SmartyPants, The Old Shackles, The Iron Maiden, and The Double Trouble. You are missing out if you don't try at least one. They make fantastic pieces to decorate with as well as a fun brain challenge. Plus they will last you for decades and will be fun to pass it down to your children as they make memories of their own.
I received one or more of the products mentioned above for free using
Tomoson.com
. Regardless, I only recommend products or services I use personally and believe will be good for my readers.